Metabolic Syndrome
By:  Tina Schmidt-McNulty MS, CES, RN
This information is from Tina Schmidt-McNulty's eLearning continuing education course:
Exercise, Diabetes, and Metabolic Syndrome. See the full course to learn more.  This course includes scenarios to help you apply the information.
Good health requires concentration on behaviors related to health such as exercise and nutrition. "For improvements in health we all need to look at changing the way we live and our personal health habits rather than continuing to rely on modern medicine to keep us well" (Mikesky 2008).
According to The New York Times article "For Americans Under 50, Stark Findings on Health," the United States holds the second-highest death rate from heart disease and lung disease along with the highest diabetes rates among American adults (2013). With obesity rates on the rise as well, individuals are more at risk for having a cluster of conditions such as high blood pressure, elevated blood sugar levels, excess body fat, and abnormal cholesterol levels that occur together ("Metabolic Syndrome" 2013). These risk factors known as metabolic syndrome place a person at risk for heart disease, stroke, diabetes and other health problems including the risk of early death.
Metabolic Syndrome or Syndrome X is the classification given when multiple risk factors are present that can lead to a high risk of developing Type 2 diabetes and cardiovascular disease (Hausman 2010). According to the National Health and Nutrition Examination Survey, age-adjusted prevalence data shows that in the United States, 27% of adults achieve the criteria for metabolic syndrome (ACSM 2010). There are five conditions that are considered metabolic risk factors. Individuals can have any one of these risk factors, but unfortunately they tend to occur together. In order to be diagnosed with metabolic syndrome, at least three metabolic risk factors need to be present.
These risk factors include: (What Is Metabolic Syndrome 2011)
Abdominal Obesity
Hypertension
Hyperglycemia
High Triglyceride Levels
Low HDL Cholesterol Level
Risk of Disease
The risk of developing heart disease, diabetes, and stroke increases with the number of metabolic risk factors. Even having one risk factor can raise the risk for a person to develop heart disease.
There are other Cardiovascular Disease risk factors besides those previously mentioned such as smoking and a high LDL cholesterol level, but they are not part of metabolic syndrome. Genetics (ethnicity and family history) and age are also considered Cardiovascular Disease risk factors and may also contribute to the cause of this condition.
However, an individual who has metabolic syndrome is twice as likely to develop heart disease and five times more likely to develop diabetes than someone who does not have Metabolic Syndrome ("What Is Metabolic Syndrome" 2011).
Metabolic Disease Risk Factors

Cardiovascular Disease Risk Factors (ACSM 2010)

Abdominal Obesity

Positive (bad) Risk Factors: (Increased risk of disease)

Hypertension

Age

Hyperglycemia

Family History

Elevated Triglyceride Levels

Cigarette Smoking

Low HDL Cholesterol Levels

Sedentary Lifestyle

Obesity

Hypertension

Dyslipidemia (abnormal blood fats)

Prediabetes (impaired fasting glucose)

Negative (good) Risk Factor: (Decreased risk of disease)

High-serum HDL Cholesterol ≥ 60 mg/dl
Signs and Symptoms
Unfortunately, most of the metabolic risk factors have minimal or no signs or symptoms with exception to a larger waistline.
Some may have symptoms of high blood sugar if diabetes is present especially in Type 2 diabetes. Symptoms may include increased urination especially at night, fatigue, and blurred vision.
Information about Diabetes
Supplemental Audio Part 1
Supplemental Audio Part 2
High blood pressure is also known as the "silent killer" since there may be no signs or symptoms to indicate this risk factor. However, in the early stages of high blood pressure, some people may exhibit a dull headache, dizzy spell, or more nosebleeds than usual ("What Is Metabolic Syndrome" 2011).
Information about Hypertension
Supplemental Audio Part 3
Supplemental Audio Part 4
Causes
Experts are not sure why metabolic syndrome develops, but they do know it is a combination of risk factors and not a single disease. The metabolism of the body is linked to metabolic syndrome and possibly to insulin resistance. When the digestive system breaks down food in to sugar (glucose), the blood then carries this glucose to the tissues in the body where the glucose is then used as fuel. Insulin helps the glucose enter the cell. With insulin resistance, the cells do not react normally to insulin, and therefore, glucose cannot enter the cell as easily. Consequently, the blood glucose levels begin to rise despite the attempt by the body to control glucose by producing more insulin. The result becomes a higher than normal insulin level in the blood.
(Click to open larger image)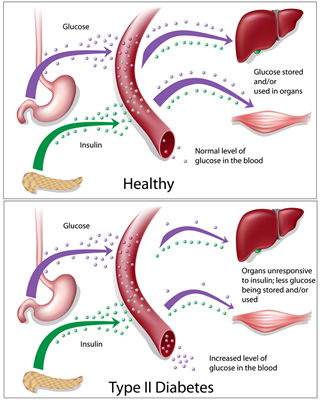 Source:  Dreamstime
www.Dreamstime.com
Summary
Metabolic syndrome is becoming more prevalent in society. Approximately 70% of the US population is inactive. This fact coupled with poor nutrition habits increases the risk for those who have or will develop metabolic syndrome. (Churilla 2009) Those with metabolic syndrome are twice as likely to develop heart disease and five times more likely to develop diabetes versus someone who does not have this condition. (WebMD 2011) Fortunately, the AHA, ADA and ACSM fully support physical activity to be an integral part of lifestyle modification.
Health-fitness professionals need to take into consideration individual risk factors to help encourage healthy lifestyle choices and improve quality of life. Treatment and prevention from these conditions are possible through a lifelong commitment to a healthy lifestyle and teamwork with fitness and health care professionals.
References
American College of Sports Medicine (ACSM). (2010). ACSM 's Resource manual for guidelines for exercise testing and prescription (6th ed.). Baltimore, MD: Lippincott Williams & Wilkins.
Churilla JR. (2009) The Metabolic Syndrome: The crucial role of exercise prescription and diet. ACSM 's Health and Fitness Journal, 13(1):20-25.
Hausman KA, Winkelman C, and Workman ML. (2010) Medical-Surgical Nursing: Patient-centered collaborative care clinical companion (6th ed.). St. Louis, MO: Elsevier Inc.
Mayo Clinic. (2013) Metabolic Syndrome. Retrieved January 2014 from http://www.mayoclinic.com/health/metabolicsyndrome/DS00522.
WebMD, LLC. (2011) What is Metabolic Syndrome? Retrieved January 2014 from http://www.webmd.com/heart/metabolic-syndrome/metabolic-syndrome-what-is-it.
About the Author:
Tina Schmidt-McNulty is a Registered Nurse and also holds a Masters of Science degree in Clinical Exercise Physiology. She is an ACSM Certified Exercise Specialist, AEA Certified Aquatic Fitness Professional, and ACE Certified Group Fitness Instructor. She is an Instructor Trainer for the Arthritis Foundation and an Instructor Coordinator for the Healthways Silver Sneaker program. She also lectures frequently for the Purdue University Calumet Bachelor of Science degree in Fitness Management.
Tina has been involved in the fitness industry since 1993 as a presenter, author, and instructor. She has been a presenter in the past at International Aquatic Fitness Conferences. Tina is author of "Gravity vs. Buoyancy: Friend and Foe" and "Essential Exercises for Cancer Patients and Survivors" eLearning courses offered through Fitness Learning Systems. In her spare time, she enjoys exercising, teaching, and spending quality time with her husband and two children.


Submitted:
October 16, 2014
By: June Chewning
Fitness Learning Systems
513 367-1251

June@FitnessLearningSystems.com